A JOURNEY OF HOMELESSNESS, FAITH, & FRIENDSHIP
Deaf and homeless his entire adult life, Butch discovers a wallet in a dumpster. What he does next will lead to a chance encounter with a visitor from Texas. This is a true story of survival by eating out of dumpsters and trying to keep warm with restroom hand dryers. More, it is a story of an unlikely friendship that has lasted over twenty-five years. Share through Butch's own letters his sustaining faith and hope to be a somebody. You will cry. You will laugh. You will learn.
"I could not put this book down from the first page. This book is short, but powerful. Well worth your time. Buy it, pass it on."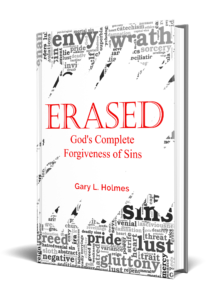 ERASED
GOD'S COMPLETE FORGIVENESS OF SINS
by Gary L. Holmes
How do I know I have been forgiven? What if I am not perfect? Does God forgive terrible things I have done to others? What if I keep sinning? Is there forgiveness for my addictions? Is there an unforgivable sin? How can I forgive myself?
As Christians, we think we know everything about God, sin, and salvation. You may be surprised to find that some of the things you have learned all your life may not be entirely right. It may be time to challenge your old ideas about what the Lord can do for you. The Biblical teachings about God's love and forgiveness are much better than imagined.
"It is well written and easy to understand, however difficult certain things may be to embrace. It will challenge preconceived notions and, for some, long-held convictions."
His awesome name
rediscovering the Lord Jesus christ
by Gary L. Holmes
Where did the names of Jesus come from and what do they mean? How is Jesus both Son of God and Son of Man? How could he be sinless but also a human like me? Can Jesus be the one God as well as part of a Trinity? What does it mean he was and is Lord? Did he come to start a new religion? Why did Jesus suffer? Did he really have to die? This book will help you understand why there is a Lord Jesus Christ and how awesome he is.
"For those who call themselves Christians, this book will strengthen your understanding of the name Lord Jesus Christ. It may also challenge some beliefs, which will help you in your quest to know why you believe what you believe. For non-Christians, it will hopefully open your eyes to how much God loves you.'